movie things
You May Be Marvel-Obsessed If You.....
Monday, April 27, 2015
In honor of Age of Ultron coming out in only 4 days (yes I'm counting!!!) here are twelve signs that you may or may not love your Marvel (which I *cough* don't speak from experience about at all).


2. When you hear any reference to Shakespeare the only thing you can think of :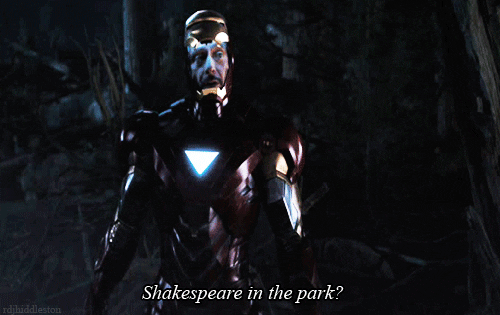 3. You stayed for both secret scenes after Thor 2, and laughed at all the idiots who left before the credits!! (Thank you stranger with the boss Captain America shirt sitting next to me for laughing with me)
4. You take every opportunity to throw down whatever you're holding and yell, "ANOTHER!"
5. You feel a huge sense of satisfaction when you see each one of Stan Lee's cameos (and you secretly think this is the best cameo of all the cameos)
6. Whenever someone says "I understood that reference" your response: "Aaaah but I understood THAT reference." 😈😈
7. Until further notice you're hooked on a feeling and if anyone asks, high on believing.
8. You've been to almost every Marvel movie in the theaters....
9. ...And then when they came out on DVD you promptly bought them.
ALL OF THEM.
Haters gonna hate!
10. You not only watch the movies and the TV shows and the Netflix shows, but as if that weren't enough you get the comic books as well.
11. You went to see Thor: Dark World mainly because of Loki. Don't deny it! ;-)
12. You get chills whenever you see this:
Marvel is seriously one of the best fandoms to be apart of. Where else do you get a bunch of smart, sophisticated, people of all ages who all can get together and laugh over brilliant one-liners, cocky men in suits, numerous fiery explosions, and a place where everyone loves the villain more then the hero?
What other reason do you need after seeing that gif?
It's quite a Marvel-ous thing, really :)