books
My Bookish Love Life
Friday, February 14, 2014
Happy Valentines Day all! I laugh when I think about this day, to be completely honest. One time my mom, my youngest sister and I were sitting at the table after lunch, and for some reason me getting a boyfriend was brought up. !!!!!!! Guess who asked that question.
In response to this my mom laughed and said, "Chloe doesn't have a boyfriend, and won't have one for a long time! She also doesn't have a love life, so I think we're good."
O_o Gee, thanks mom.

But she was wrong!! I DO HAVE A LOVE LIFE!!!

..........


Yah, that love life may or may not involve books. My idea for a perfect weekend is making a fort with lots of pillows, and curling up in and literally just reading all day. Which is exactly what I'm hoping to do tonight to celebrate this day of love. :) :)


So some good books I've read lately...... Here we go.
First off, one of my new favorite series:
Half Upon a Time by James Riley.
This author ALWAYS makes me laugh!! He switches characters every chapter (in third person) but he does it in such a way that you can tell who it is almost without needing the person's name. Which, in my opinion, is a GREAT skill to have as a writer!
There's irony, fantasy references galore, and AWESOME plot. And the characters- I love them all! Right now Jack has to be my favorite, just because he's so unexpected. But I mean aren't they all?? I'm three-fourth way through the last book, and I would strongly recommend picking up these series!!!!!
(The last book!!!! *squeal*)
Just Ella by Margarent Haddox.
This was an interesting one, and if you want a short light read you'd probably enjoy it. I liked the creativity of Cinderella's story AFTER she marries the prince, and it's not all chocolate pie and super amazing stuff. It's very reminiscent of the book Ella Enchanted, although Ella Enchanted is better in my personal opinion:) The writing is done well, and although this wouldn't be one I'd buy or strongly recommend, it left me wanting more at the end! It's more for a fun read then a deep thinking one.
The Hobbit by J.R.R. Tolkien.
Okay so I've already read this, yes, but what's to stop me from reading it again? And then again!? I actually forgot how it ended, and since the last part in the movie trilogy is coming out this December (*even bigger squeal*) I wanted to brush up on everything that happened.
This one is easier to read then the Lord of the Rings series, and a very good stepping stone into British literature. I could go on and on about this author (he's sure incredible) but I'll just let you read it and see for yourself!
The Shakespeare series by Gary Blackwood.
The first book in the series I had to read for school, and afterwards I loved it so much I went and grabbed the other two from the library and gobbled them up.
I enjoy historical fiction so long as I'm not the one writing it. Researching all that history is not my forte! The author does a great job of not shoving all the history facts down your throat but giving them to you only when you need them.
The Left Behind series by Tim LaHaye.
I've only read the first book in the series so far, and it's definitely for more mature audiences. I can now see why my dad wanted me to wait until I'm this age to read them. Nothing bad, just honest adult content. It's about the time after the rapture and everything at the end of the world. VERY convicting! I'm enjoying it.
And now for some books I can't wait to read.....
Wednesdays in the Tower by Jessica Day George!
The first book (Tuesdays at the Castle) was adorable, and I'm excited to read this second one.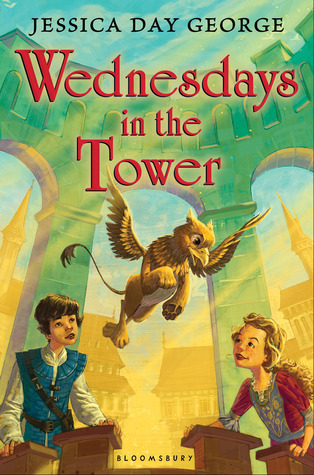 100 Cupboards by N.D. Wilson.
Avery recommended this one and it certainly looks interesting.
Outcasts by Jill Williamson
. *mega super drawn out squeal* Once I've studied biology I'm burying myself in this book for the night!
Have you all read any good books lately?
Love,
Chloe