tutorials
How To Make An Un-Birthday Gift
Thursday, May 14, 2015
Hello, hot pink.
So you all know what a wonderful thing birthday presents are. DON'T DENY IT- no matter how macho and cool you may be on the outside, I bet you still get insanely (unhealthily?) excited to open presents.
But I obviously have NO experience in this field at all. Yup, I put the p in patience when it comes to waiting for gifts.
Just last week I was thinking about birthdays, and Alice in Wonderland, and I've decided that our world need more un-birthday gift givers.
If you haven't read Alice in Wonderland, an un-birthday is just what it sounds like; a celebration on a day that isn't your birthday!
Which is awesome, and brilliant, and when I become president I'm establishing this as a legitimate thing (you think the Senate will buy it?).
You don't even have to say "happy un-birthday" when you give it; when I did it just handed it to my special friend and said "happy Thursday! I thought you could use something extra special today." Or something equally as mushy. Trust me, the reaction you get will be SO WORTH IT: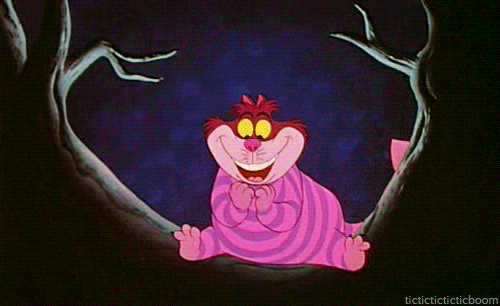 The best thing about this at the possibilities are ENDLESSSSS. You can fill it with anything your heart so desires, and there won't be any expectations when they open it because (obviously) they weren't expecting it to begin with!
You could always stuff in some....
-Candy (DUH)
-A movie for their rainy days
-FRUIT
-Little index cards full of doodles, verses, advice, or messages
-A drink you know they'll love (Apple cider, Gatorade, Pepsi, Butterbeer, tea, ya know...)
-A giftcard to their favorite coffee shop
-Energy bars
-Flowers
-Random pictures of both of you
-Exotic-smelling lotion
-That Captain America shirt you know they were eyeing
-The biggest Hershey bar in the store you can find
Seriously, the list goes on. Put whatever your want in this little bag of goodies. Also, who's to say it has to be in a bag? Use a box, a hat, a purse, a bucket. Go crazy! Break the rules!
So tell me; who's un-birthday are you going to celebrate today? And i
f it just happens to be yours... well:
Have some mushroom. Err. Cake.